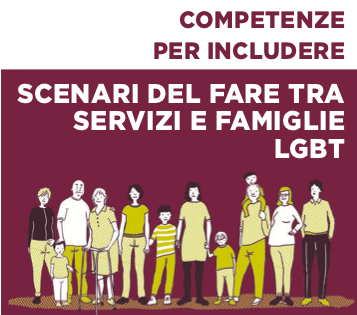 On February 13 and 14 will be held in Bologna the final conference of the project Doing Right(s). Innovative tools for professionals working with LGBT families. Please click here for registration and further information.
Il prossimo 13 e 14 febbraio si terrà a Bologna la conferenza "Competenze per includere. Scenari del fare tra servizi e famiglie LGBT". L'evento conclude il progetto europeo Erasmus+ "DOING RIGHT(S). Innovative tools for professionals working with LGBT families" e affronta il tema delle competenze degli operatori per l'inclusione delle famiglie LGBT nei servizi. Con uno sguardo internazionale, la conferenza finale è rivolta a chi opera a vario titolo in ambito sociale, sanitario, educativo e legale.
Nella prima giornata, la mattina è dedicata alla presentazione degli strumenti formativi elaborati all'interno del progetto e agli interventi di esperti qualificati. Il pomeriggio, invece, sarà organizzato in workshop per sperimentare attraverso metodologie attive le riflessioni teoriche sviluppate nel corso della mattinata. La mattina della seconda giornata, invece, sarà una tavola rotonda per mettere a confronto buone pratiche locali in Italia, Spagna e Polonia.
Per gli interventi in lingua straniera è prevista la traduzione simultanea.
E' necessario iscriversi: qui trovate il programma e tutte le informazioni necessarie.