Youth hostel
A great youth hostel (https://www.ostelloverona.it/en) that was presented during the virtual conference in Mainz in last September has just partially re-opened to the general public. However, since it still hosts a small group of Ukrainian refugees (women and children, occasionally visited by their partners), considering their fragility and privacy needs, the hostel can currently only take bookings by women. The (first) floor we can occupy hosts up to a maximum of 37 people (if, over the next few days, we take it all, it can all be ours; otherwise we may share it with the occasional tourist). The hostel is situated 14 minutes by foot from the conference venue and close to such picturesque historical monuments as the Roman bridge and theatre. It is a spartan type of lodging in bunk beds, and deliberately so, expressing a communitarian spirit of welcoming the traveller. Although a former religious building (a 15th-century Franciscan nunnery) it is now owned by the city authorities and run by a secular charity that has also over the years worked tirelessly in the hospitality of asylum seekers.
Consequently, the whole floor forms one soundscape, with partitions not going all the way up to the ceiling. Nevertheless, partitions create smaller areas, and early booking can ensure that you book as a group a "room" of 2 or 4 beds. There are lockable wardrobes and a few desks. The price is €20 per night and can be paid on site either in cash or by card. Bedlinen are provided, but please bring your own towels. There are toilets on the same floor and the showers are downstairs (in a different area from that in use by the hosted families). The structure of the building ensures more moderate temperatures than outside; air conditioning will be anyway activated if appropriate. Here and there there are some areas available for study or meeting (and some on the ground floor may have a better wi-fi connection than the sleeping area). In order to book, please write to info@ostellosantachiara.it (English is fine) and remember to specify your dates (here totally flexible) and that you come to our conference. The staff is competent and kind. We are sorry that this opportunity is not available for men.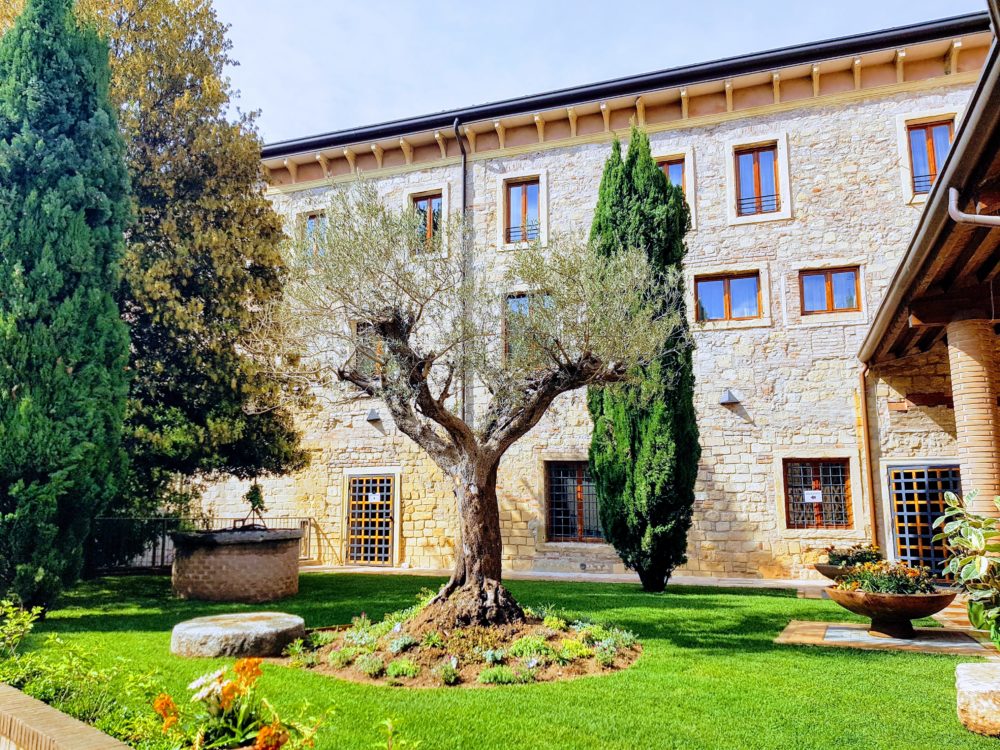 Youth hostel "Santa Chiara" in an ex-nunnery
Hotels and B&Bs

Standard sites provide lists of hotels and B&Bs. Please bear in mind that Verona is a major tourist destination in Italy and the summer is opera season (if that interests you, see "other tips" below). We advise to book well in advance. The Department does not have specific agreements ensuring discounts. However, it keeps the following list of hotels and B&Bs that academic guests have used recently. At least some of them, if you mention that you come to (and have been recommended by) the university, may offer more convenient tariffs.
Name

Stars

Address

E-mail

Telephone

+39 045 590422

***

info@hotelverona.it

+39 045 595944

***

+39 045 596022

****

+39 045 595300

***

+39 045 8006830

***

+39 045 8003554

B&B VERONETTA HOUSE

+39 366 8227678

B&B AD CENTRUM

di Fraccaroli Fabio

+39 348 5180496

****s

+39 045 596222

***

info@hotelmastino.it

+39 045 595388

di Federica De Rossi

info@lospite.com

+39 045 8036994

+39 329 4262524
Accommodation in the student residence
As anticipated (although with significant delay from the originally agreed schedule, with fewer options, and a fair number of bureaucratic obstacles), conference accommodation is available also in student residences. ESU, a board twinned to the university, offers rooms to the conference guests in the student residence "
Seminario
" within 10-15 minutes walk from the conference venue, for about a maximum of 55 people at the following rates:
Single room: daily price  €103.73 / weekly price €218.46
Double room: daily price €57.64 / weekly price €172.37
 Please note that:
(since students may occupy rooms until the end of July) accommodation in the student residence is only available for check-in from 4.30 pm on 1 August 2022. The latest time for check-out is by 4.30 pm on Sunday 7 August 2022. Anyone needing accommodation for dates before 1 August, or after 8 August, will have to seek it elsewhere.
this accommodation option may be convenient (if you want to stay for more than two nights and) for small groups and/or people who are happy to share some living space with others. Note that only a limited number of rooms are single: the single rooms will be assigned in order of arrival of the requests received.
the kitchen facility is alas nominal as, being intended as long-stay accommodation, no equipment is provided (not even glasses, plates, knives and forks, a kettle…).
The deadline for booking until all places are filled is 10 July. After this date the possibility of accommodation is not guaranteed, but the requests subsequently received will be evaluated on the basis of the actual availability of beds in the other ESU residences.
The student residence "Seminario" has 12 apartments for a total of 55 beds spread over 3 floors. The apartments can accommodate:
3 beds (1 double room and 1 single room)
5 beds (2 double rooms and 1 single room)
6 beds (3 double rooms)
for a total of 11 single rooms and 22 double rooms. There is one room that is equipped for students in a wheelchair. Each apartment has one or two bathrooms, some for exclusive use and others shared with other guests. Kitchen is not equipped with dishes (there is an induction hob). Bed linen and towels are provided and only final cleaning is provided. The check-in is available earliest from 4.30 pm on 1 August 2022, to be carried out at the Reception of the Corte Maddalene Residence  (address: Corte Maddalene, 5) and check-out by 4.30 pm on Sunday 7 August 2022. Check in and check out operations are available 24 hours a day.
The residence does not have parking space. There are no architectural barriers. Services provided: lift, air-conditioning, self-service laundry. Wi-Fi with credentials to be requested from the university (general information concerning Wi-Fi at the conference venue too will circulate soon); alternatively the free city network at this link. The residence contact information: Address: Via Seminario, 12 – 37129 Verona / Phone: +390458052812 / Email: urp@esu.vr.it
Short instructions for requesting accommodation in the student residence:
Despite our pleas, unfortunately the reservation system is very complicated and only in Italian language. Detailed instructions in English are provided in the link below for those who do not read Italian. Before starting, make sure you have plenty of time and an image file of your passport/identity card (back and front) at the ready. Even when you are sharing a double room with someone (or an apartment), every guest has to make an individual reservation through this system. Remember that the deadline for making the accommodation request in student residence is 10 July.
– first of all, register to the website by choosing "Accreditamento utente": https://sol.esu.vr.it/public/index.php
– after being accredited, access with the credentials issued by the system (SPID mandatory for Italians, user and password for foreigners) https://sol.esu.vr.it/public/index.php
– at the first access you are asked to choose the profile: choose "Altri utenti (esterni)"
– after this, select "Alloggio – Foresteria"
– fill in the proposed pages, especially the page indicating the arrival and departure dates. If you want the weekly rate, put the whole week: 01/08/2022 – 07/08/2022
– In the comment fields mention that you are coming to the conference, and remember to indicate the type of room (single or double) you want and the names of any other guests for a double room or groups of guests for the same apartment. Single rooms will be assigned in order of arrival of the requests received.
-complete the request and click on the green button "Invia la domanda"
-After the booking request, an email will be sent to the applicant with payment instructions via pagoPA-payment system. This is the only possible payment method for the student residence. It should be noted that the bed is considered confirmed only after the payment has been made within the indicated deadline. You will receive an automatic confirmation of a successful payment – this will mean that your booking is confirmed and there are no further messages.
Update on arriving at the residence and getting the keys:
ESU Verona has sent instructions via email to those who have successfully reserved accommodation at the student residence. Here is a translation:
"Recipient (of the keys) has to present themselves in person at the reception and show their valid passport/identity document.
The keys/entrance badge can be collected at the reception of Corte Maddalene (address:  Corticella Maddalene n. 5 -37129 Verona, https://www.esu.vr.it/servizi/servizio-abitativo/#corte-maddalene) starting from 12:00 of the first day of your reservation. Reception is open every day around the clock, but we recommend collecting the keys during normal working hours.
The accommodation contract and the confirmation of assigment of the keys can be downloaded on the ESU Verona website, among the documents saved on your profile page.
ESU also runs a Canteen, across the lawn from our lecture rooms, which will be available to conference badge holders at the following rates (inclusive of VAT):
Full meal € 7,00; Middle € 5,60; Mini € 4,20.
Please inform ischverona2022@gmail.com about any dietary requirements for the canteen, reception/coffee breaks as well as the optional conference dinner.
The closest airport is https://www.aeroportoverona.it/en/, well connected to the city by public transport (15′ AirLink bus every 20′).
Foreign visitors have been positively impressed by Italian trains lately. For timetables and booking, look at individual companies (Trenitalia, Italo) or cumulatively here. Bear in mind that Trenitalia's high speed trains "frecce", as well as Italo's, have variable prices that make booking weeks, even months in advance more convenient. Verona Porta Vescovo is the closest station in walking distance (if you come from or go East, in the direction of Venice). However, main Verona Porta Nuova is better served by bus and the only stop for most trains.
Taxis are slightly more expensive than elsewhere: ask for a quote to avoid surprises.
Local public transport is affordable and generally reliable. Tickets (1,30€ for 90min) can be purchased at newsstands and kiosks marked with "T" (=tabaccheria). It is also possible to purchase tickets via smartphone app. It is not possible to buy tickets on the bus.
Starting from June, the "green pass" is no longer required for entering the Italian territory from abroad: https://www.viaggiaresicuri.it/ However, the face mask of the type FFP2 is required in public transport (trains, ships, buses) and in buildings related to health care until 30 September.
The face mask is not obligatory in the universities, hotels, restaurants, stores, museums etc. This also means that the face mask is not obligatory at the conference venue.
It is possible to pay the conference fees and the conference dinner in advance via bank transfer or PayPal on the "register" page.
It is also possible to pay at the conference venue either in cash (euro) or by card reader. A cash dispenser is available within the university premises.
In Verona, credit card payments are accepted in all stores (as required by the Italian law).
At the conference venue anyone who has access to eduroam will be able to connect to wi-fi that way.
Those who do not are strongly invited to write to ischverona2022@gmail.com in advance, as the university will need some personal information in order to offer temporary local access to internet.
There also is the free Verona city wifi.